Controlled and Guaranteed Denomination of Origin​
Variety 100% Barbera
Yeld per hectar 100 q/Ha
Picking manual with baskets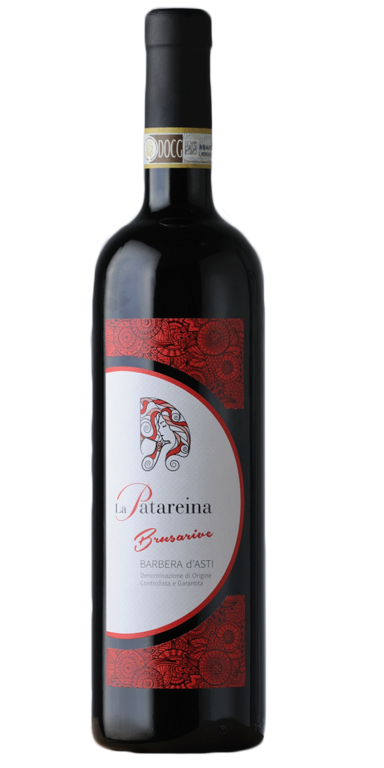 Production 
Brusarive represents the classic and traditional Barbera d'Asti, produced with the techniques and malice of the past. 
The grapes, de-stemmed and crushed for 70%, 30% whole berries, are put in steel tanks of 50 hl, fermenting for a period between 5 and 7 days. 
The Racking and Pressing phases will follow and the result wine will come together in a single blend. 
In this way we will have the classic Barbera d'Asti, characterized by its unmistakable vinous and strawberry scent, fresh and young.
Alcohol: 14%
Residual sugar: 1,21 g/l
Total acidity: 5,03 g/l
Awards: 90 points from "I Migliori Vini Italiani – Luca Maroni"
Testing notes
Sensations: a red wine characterized by an inimitable floral bouquet, with hints of strawberry and cherry, which amazes for its freshness and its youth that enhances its fresh red fruit notes. On the palate it amazes for its sweetness, its velvet and its low acidity. 
A gustative softness that envelops and persists in the mouth.
Pairings
It is an ideal wine matched with red meats, roasted, fresh cheeses, legumes, pasta and rice with cream sauces and cheese, pizzas, focaccia and savory pies.
Serving temperature: 18 ° C
THE VINEYARDS
Location: Piemonte – Italy
Coordinate: 44°45'8.76″N – 8°22'54.11″E
Municipality: Nizza Monferrato (Asti)
Soil: clay-silt / sandy
Altitude: 274 m slm
Breeding system: Guyot
Harvest: September