Vino Rosso da Uve Stramature
Controlled and Guaranteed Denomination of Origin​
Grape red berry aromatic grapes
Yield per hectare 50 q/Ha
Harvest Manual in baskets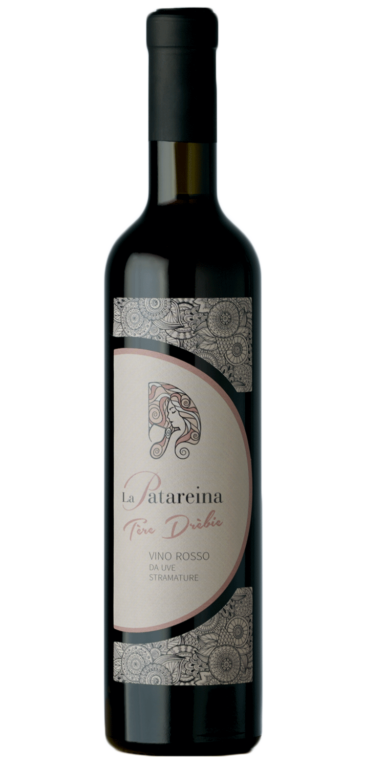 Production 
The late harvest, compatibly with atmospheric conditions, takes place between the end of November and the beginning of December. 
Usually, after the harvest, the grapes are stored in the fruit cellar for a better withering and to obtain the ideal sugar level. 
The de-stemming phase and the slow maceration in the oak barrels, for a long period of 5-6 months, follow. 
When Ideal alcoholic and sugar content are reached, the must is filtered and prepared for bottling.
Alcohol: 15% 
Sugar residue: 85 g / l
Total acidity: 5.60 g / l
Tasting notes
The color is a full-bodied red with purple reflections. pink and purple make it unmistakable, the notes are of fruit ripe with sweet spices. 
On the palate it is pleasantly sweet and the high alcohol content elevates the sweet aromas. 
Sensations of wood accentuate the vanilla notes.
Pairings
An ideal wine if matched with dishes with gustatory contrasts such as figs and raw ham, excellent with meat cooked with citrus fruits and plums, ideal at the end of lunch/dinner with the Roccaverano goat robiola combined with the Piedmontese cugnà.
Serving temperature: 18 °C
THE VINEYARDS

Location: Piedmont – Italy
Coordinates: 44 ° 45'8.76 "N – 8 ° 22'54.11" E
Municipality: Castel Boglione (Asti)
Soil: clayey-marly
Altitude: 320 m above sea level
Cultivation system: Guyot
Harvest: November / December